News
/
Best demo award
22-09-2017
---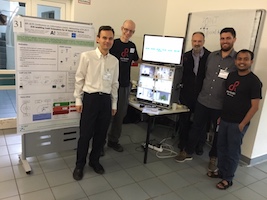 Our demo prensented in the 4th ACM Conference on Information-Centric Networking (ACM-ICN 2017), Berlin, Germany, won the Best demo award.
Our demo, entitled "ICN enabling CoAP Extensions for IP based IoT devices", presented how Information-Centric Networking can benefit the Internet of Things. This is a joint work by N. Fotiou, G. Xylomenos, and G. C. Polyzos from AUEB/MMlab, H. Islam and D. Lagutin, from Aalto University, Finland, and T. Hakala and E. Hakala, from e-lli, Finalnd.
You can find more details in our paper in this link.